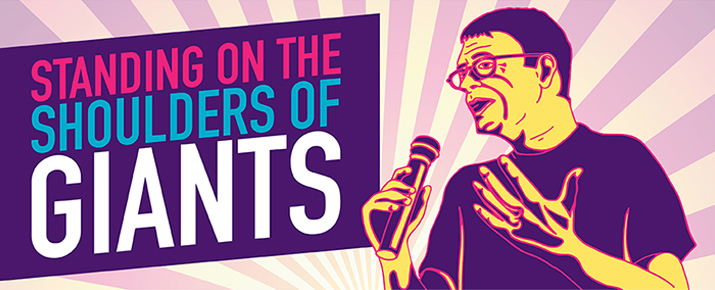 28 Jun

Illustrating Cleve Jones

Inspired by our work with the 519 Community Centre.
by: Suzy Malik

Recently Jonathan and I were invited to come up with a poster for the 519 Community Centre's LGBTQ Workplace Inclusion Campaign launch. We had big bold powerful words to work with – "Standing on the Shoulder of Giants", but we also needed a visual hook. An illustrated portrait of the keynote speaker Cleve Jones (founder of the AIDS Memorial Quilt) seemed the perfect fit.

It was such a wonderful excuse to put a pencil to paper, and an even better excuse to take some time to revisit different moments in history related to Jones. Google delivered striking B&W shots of Cleve with his curly hair and iconic glasses next to Harvey Milk, there were pictures of the AIDS Memorial Quilt against the Washington Monument and a smattering of Emile Hirsche images (Hirssche played Cleve in Gus Van Sant's film Milk). I also took some time to read a few powerful interviews where Jones talks about what it was like in San Fran when the AIDS epidemic hit.

Cleve's legacy of activism reminds me that the queer community has much to be thankful for. Every year as Pride approaches, I like to take time to think about giants like Cleve who have lifted me up so that I might stand tall and enjoy a better future. It's a particularly meaningful time for me to honour those who fought hard to help build spaces where queers can feel safe. It's also a perfect time to think about what I can do to make things better for the fresh-faced queers who will follow.

I am grateful that the 519 gave us this opportunity and I know both Jonathan and I appreciate being able to play a tiny part in this important project.

Below is poster we designed for the 519′s LGBTQ Workplace Inclusion Campaign launch.