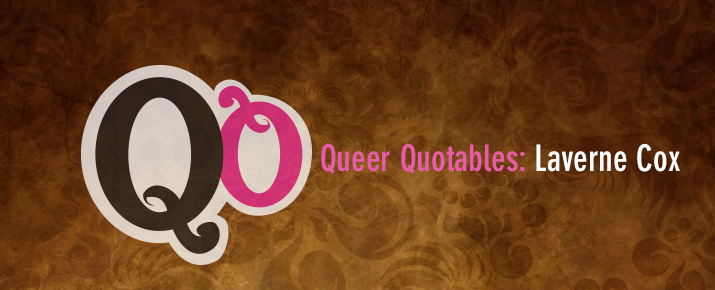 28 Jun

Queer Quotables: Laverne Cox

Queer Quotable artwork featuring Laverne Cox.
By: Suzy Malik

When some artist's stars go on the rise they tone down their politics or stay quiet about who they are for fear of rocking the boat and losing work. Laverne Cox instead has opted to stand taller and has used her fame to eloquently get her message out while remaining true to who she is. As a result, not only has she won the hearts of many (myself included), her star has risen higher.

Laverne Cox (Orange Is The New Black) will be in conversation with Wilson Cruz (Rickie from My So Called Life! Yes my 16 year old self is swooning) tonight at the TIFF Bell Lightbox. They will be discussing international transgender advocacy and Cox's documentary project Free CeCe. I have my tickets and I'm super excited about it, so it seemed well timed to share this Queer Quotable in honour of one of my favourite outspoken thespians – Laverne Cox.
Please feel free to share this image.