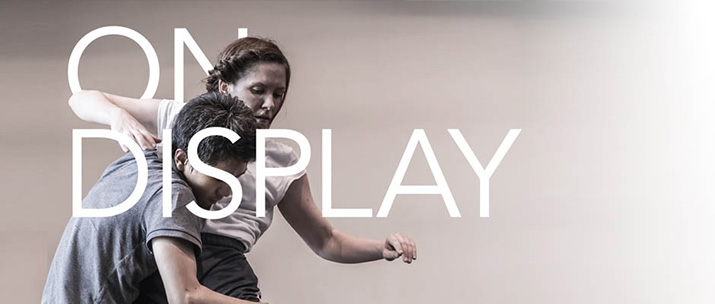 02 Mar

I wanna dance with somebody

Working with the Toronto Dance Theatre in 2013/2014.
by: Suzy Malik

I have always been taken by dance, so I have been particularly giddy to have a couple of dance companies on our roster of clients. I believe that if childhood dance wasn't all covered in leotard and sequins I would have pursued classes. As a young adult however, I was lucky enough to have a good friend who was a talented dancer studying at the School of Toronto Dance Theatre. She became my tour guide though the lush landscape of dance. It was because of her insights into the art-form and invites to shows that I was really able to let my appreciation of movement flourish.

Sadly when she moved to San Fran I lost track of what was happening in the world of dance. Don't worry though, this story has a happy ending – fast forward to now, and I am thrilled to be welcomed back in via Light Up The Sky. I'm especially excited to be working with Christopher House and his team over at Toronto Dance Theatre. Returning to their Winchester space felt like visiting a familiar old friend.

Jonathan was invited on board to do TDT's design work in 2012 and he came up with fun and vibrant seasons materials for them then. This time around, we went in a much more subtle direction. TDT offered us some beautiful photography by Jeremy Mimnagh to work with and they set the tone for the design.

These photographs have a sense of space and they feature dancers striking bold poses, bathed in soft natural light (and check out those floor reflections). In order to activate the negative space around the dancers we went for a much more cinematic approach to the titles, and to compliment we kept the secondary text treatments simple. Images like these are a gift and we didn't want to over complicate them with the design, instead we wanted to weave the design elements into the photographs, so we did that – literally. You'll notice the title text overlaps and tucks under the dancers, as if they too are part of the dance.

What resulted was a body of work that both Jonathan and I are quite happy with.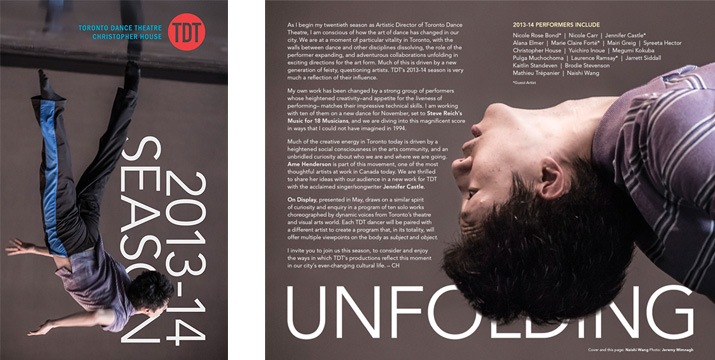 If you are looking for your own way to get into the world of dance, I highly suggest checking out one of TDT's shows this season. Christopher House's work is always worth spending some time with, and I suspect their old Winchester space will also welcome you like an old friend, even if you haven't met before.